Social
Respect for human rights
We are implementing the following in order to create an organization that respects human rights and values diversity:
Consideration of human rights in accordance with international standards
Creation of a free and active work environment that does not tolerate harassment
Creation of a workplace environment in which individuals with various backgrounds, including gender and nationality, can work in their own ways and fully demonstrate their individual abilities
Promotion of work-life balance
We are implementing initiatives to promote work-life balance and improve productivity among employees.
Flextime system
Employees can determine the start time and end time of their working hours on their own between 7:00 and 22:00. The normal working hours per month are calculated as follows: 7 hours x prescribed working days.
Telework system
Teleworking, such as working from home, is acceptable. Employees can select a place of work to the extent that there are no obstacles to operations.
Childcare leave
Employees can obtain Childcare Leave until the child reaches the age of 1 (up to the age of 2 if the child cannot be admitted to a day-care center, etc.). The acquisition rate of Childcare Leave among male employees has also been increasing in recent years.
Shorter working hours
The standard working hours per day can be reduced to 6 hours until the child reaches 3 years of age.
Family care leave
If a family member of an employee is in need of care, the employee can take up to a total of 93 days per subject family member.
Shortened working hours for family care
The standard working hours per day can be reduced to 6 hours for up to 3 years from the start of use of the shortened working hours.
Employee health and safety
We are implementing initiatives that enable employees to work with a sense of security in both their physical and mental health.
Promotion structure: Safety and Health Committee
The Safety and Health Committee has been established at the Head Office with the aim of thoroughly promoting safety and health activities with respect to employee occupational safety and health management. At least once a month, the committee conducts surveys and deliberations on measures to maintain and promote health, as well as to investigate and improve the working environment.
Recommendations for health management and promotion
We strive to reduce long working hours among employees in order to manage and promote their health. For such employees with long working hours, we organize interviews with occupational physicians and conduct hearing from their supervisors.
Medical examination
In addition to periodic health checkups, we support the health management of our employees by conducting gynecology checkups, preventive checkups for lifestyle-related diseases, and comprehensive health checkups.
Mental healthcare
We have established an e-mail service that allows employees to consult with occupational physicians directly regarding mental health.
Flu vaccinations
We subsidize the cost of flu vaccinations (health insurance subscribers are not required to pay any cost).
The Tokyo Head Office conducts group vaccinations within the company.
Diversity & Inclusion
We aim to create a workplace environment in which individuals with a variety of backgrounds, including gender and nationality, can work in their own ways and fully demonstrate their individual abilities and strengths.
Increasing the ratio of female and foreign managers
In order to promote the active participation of women and foreigners, we have set targets for increasing the ratio of management positions in each of these groups and we strive to create a workplace environment that supports their active recruitment, development, and participation.
Meister system
We reviewed the reemployment system that had been applied to employees aged 60 to 65 after retirement. We have introduced a compensation system based on their abilities, motivation, and achievements, in addition to experience. Employees aged 60 to 65 after retirement are positioned as "Meisters" and we aim to increase their motivation to work.
Senior Meister system
We have raised the age limit of reemployment after retirement from 65 years old, and we employ all employees up to 70 years old, depending on their wishes. Employees aged 65 or older are designated as "Senior Meisters" and we strive to make the most of their experience and abilities and to stabilize the lives of our employees.
Human resource development
Securing and developing human resources with highly specialized technological capabilities and flexible concepts is the foundation of our sustainable corporate activities. We promote career advancement support and expansion of the evaluation system so that individual abilities and strengths can be developed.
Promotion structure: Human Resources Development Committee
We strive to improve employees' careers by implementing the following cycle: training, assignment, and evaluation.
We have established a Human Resources Development Committee to promote in-house education based on the four pillars of employee education (rank-based education, functional education, language training, and company-wide common training), and to monitor the operation of "development, assignment, and evaluation."
We have established an in-house staff recruitment system and a program for the voluntary transfer of new graduates in their third year of employment to respond to employees' motivation to develop their careers actively.
Quality and product safety
Quality policy
Contribute to the creation of a better society and the environment by providing a wide range of cutting-edge products and services that support customers' production and development activities
Endeavor to improve our own quality in order to understand the needs of our customers and to fully meet their expectations
Continuously improve the quality management system in order to maintain and create performance and safety in accordance with the rules and regulations of the times
Initiatives
We are ISO 9001 certified for designing, developing, manufacturing, inspecting, delivering, installing, calibrating and servicing (repairing) electronic measuring equipment in order to guarantee a high level of quality and to satisfy our customers. We have also obtained ISO/IEC 17025 to certify that we are capable of performing high-level tests and calibrations, satisfying "technical requirements" such as validation of testing and calibration methods, traceability, accuracy of results, and reliability, in addition to our quality control system similar to that of ISO 9001. We strive to improve safety and quality by complying with relevant laws and regulations, by having all divisions clarify quality objectives in line with our quality policy, and by implementing a PDCA cycle to satisfy our customers' quality requirements consistently.
Inspection and support structure
Specialized technical staff in each field perform pre-delivery inspections and provide after-delivery technical support for products used by customers so that they can be used in their operations in a timely manner. Periodic calibrations and repairs due to sudden failures after purchase are performed promptly to minimize customer downtime. We also provide support to help our customers solve their problems by responding to technical inquiries so that our products can be used in a good condition for a long period of time.
Based on the know-how we have accumulated through our support of cutting-edge measuring instruments, we develop new measurement systems and customize them to expand functions and to improve quality in response to further needs of our customers.
Quality performance
There have been no accidents related to product safety, such as electrical fire accidents or the contamination of substances with environmental impact that exceed regulations.
Item
Fiscal year (from October of the previous year to September of the relevant year)
2017
2018
2019
2020
2021
Number of serious accidents involving the products handled by TOYO
0
0
0
0
0
Number of serious violations of laws and regulations
0
0
0
0
0
Quality defects※
100※
89
74
81
115
※Each figure is expressed as an index with the base year 2017 set at 100.
Enhancement of customer satisfaction level
Customer satisfaction survey
The results of the questionnaires are reflected in the CS (Customer Satisfaction) Improvement Activity Plan for the following fiscal year, and all employees work together to promote measures to satisfy customers further.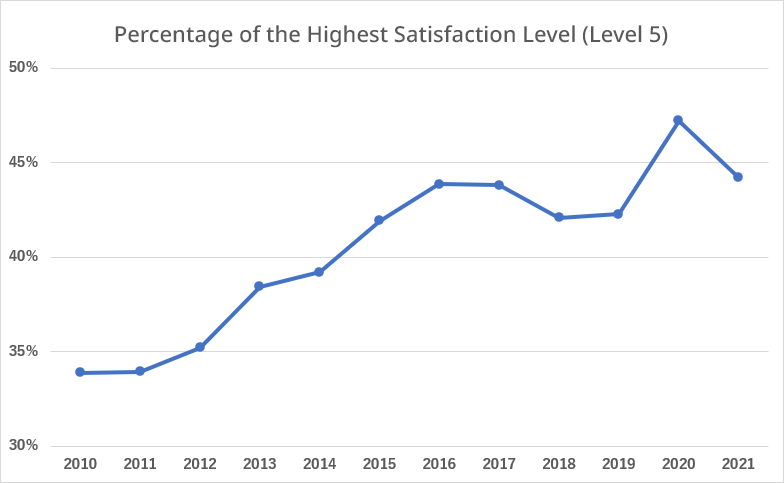 Training
From time to time, we hold product seminars and training on basic operations and application methods to ensure that customers can use our products effectively. We provide detailed training courses so that customers can make full use of the functions of measuring and analytical instruments purchased.
Social contribution activities
Disaster and reconstruction assistance
Our products are used for marine searches in the affected areas. Please refer to the link below for details.
Fostering the next generation
We cooperate with universities and NPOs to provide hands-on courses and other activities to help children learn about the fun and importance of science. Please refer to the links below for details.
Contributing to local communities
We are contributing to the promotion of the health of the elderly by participating in "Karuizawa Health Checkup" in Karuizawa-machi, Nagano Prefecture. Please refer to the link below for details.