TOYO Supports "Karuizawa Health Checkup"
Measuring Walking Movements to Prevent Pre-symptomatic State and Extend Healthy Life Expectancy
Issues in Japan-Extension of Healthy Life Expectancy in Aging Society
Japan has high life expectancy in the world. At the same time, the gap between its average life expectancy of 84 years and healthy life expectancy of 74 years, the highest in the world, is 10 years. (Reference: "GHE: Life expectancy and healthy life expectancy", WHO)
The healthy life expectancy is defined as "a life spent independently in good health". The above data indicates that people need some supports and nursing for the last 10 years, limiting the daily life at some point.
With keyword of "100-year-life" people pay attention to extend the healthy life expectancy to stay healthy both mentally and physically as long as possible.
"Karuizawa Health Checkup" -Aiming to Extend Healthy Life Expectancy
With more attention to extending healthy life expectancy, Karuizawa Health Checkup was launched in Karuizawa-machi, Nagano Pref. in 2020 co-led by Karuizawa-machi and Shinshu University Research Center for Social Systems. Karuizawa Health Checkup is a research project aiming to identify the cause of dementia and frailty, defined as just before bedridden stage and possibly returning to good health with appropriate support, and their connection with hypertension. This is a 5-year project, and through this entire period, the examinees are expected to continuously participate in the cognitive testing, measurement of muscle mass and walking speed, and self-checking blood pressure at night at home. Results of those tests and special health checkups are utilized for the research. TOYO Corporation participates in this joint research project.
Reference: "Karuizawa Health Checkup" Shinshu University Research Center for Social Systems(only in Japanese)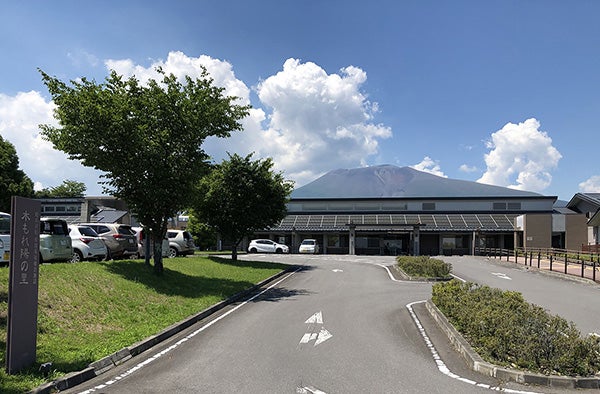 The venue
The reception of the checkup
Early Detection of Dementia and Frailty Assessment-Encouraging Appropriate Treatment and Prevention
One in five elderly population is said to develop dementia in 2025 when baby boomers turn over 75 years old. The early detection of mild cognitive impairment (MCI), lying in the space between dementia and what is considered healthy, may lead to appropriate treatment and prevention, improve cognitive function, and slow the progression of symptoms. In Karuizawa Health Checkup, examinees take cognitive function test and if diagnosed as MCI, they are encouraged to have a detailed examination to detect dementia at an early stage.
In addition, frailty is assessed through measurement of muscle mass and walking speed from the viewpoint that the functional decline due to muscle weakness is likely to cause frailty.
TOYO's in-house developed product "KG-walk" is utilized for measurement of walking movements to assess frailty.
"KG-walk"-Measuring Walking Speed and Posture
When Karuizawa Health Checkup project was proposed, walking movements were supposed to be measured by general stopwatch.
Hearing this, a TOYO's researcher suggested to utilize "KG-walk" for this project.
"KG-walk" was developed through improving "KG-wear", produced during the research for speed skating, and with its enhanced function, it is able to measure and analyze in units of a hundred people.
(Reference: Development of "KG-wear" to measure human movements│TOYO Corporation)
"KG-wear" focused on collect and analyze data from one person aiming to research for top athletes. Today, "KG-walk" is able to measure in units of a hundred people and manage the digitized results with a view to utilize it at a large-scale checkup. In addition to this, a belt was adopted to put it on more easily.
"KG-walk" can measure the acceleration vector of walking on two legs precisely and calculate the walking speed and posture. People only need to put on "KG-walk" and walk a certain distance, then walking speed can be digitized in several ways based on medical standards. This easy measurement method is the reason why "KG-walk" was adopted to Karuizawa Health Checkup.
Examinees put on "KG-walk" and walk from starting point to goal as usual. The result is utilized to analyze the left/right balance during walking, stride intervals, walking speed in a certain distance. The analyzed data shows the walking habits of individuals for example putting on weight on right or left, and shortened stride year by year.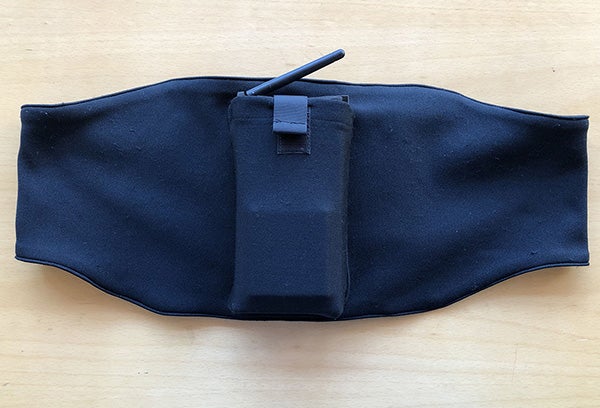 "KG-walk" utilized for walking test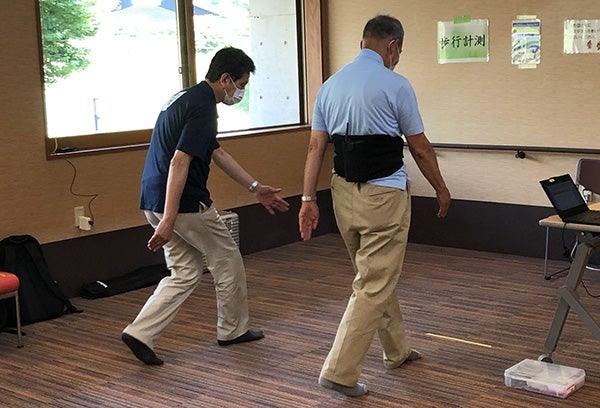 Walking test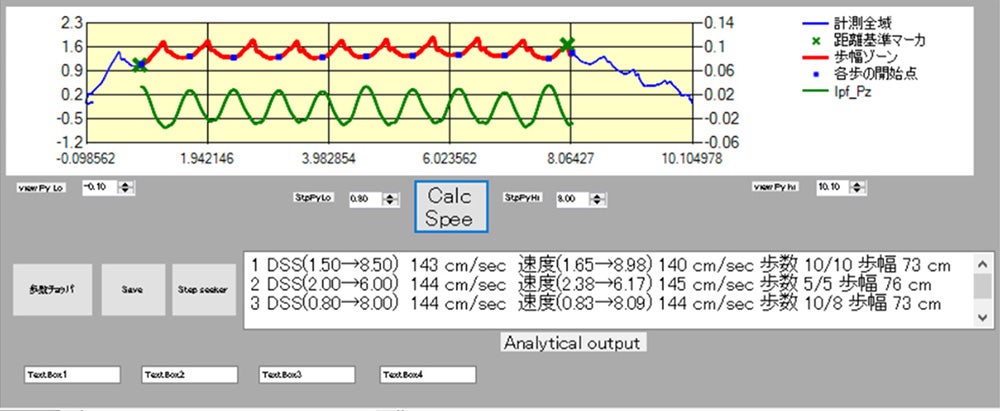 The analyzed data utilizing "KG-walk" measurement results
On July 19,2021, we held the seventh Karuizawa Health Checkup for FY2021 project (Apr. 2021- Mar. 2022).
In the midst of the COVID-19 pandemic, examinees kept distance from others, and everything went smoothly from putting on "KG-walk" to walking test.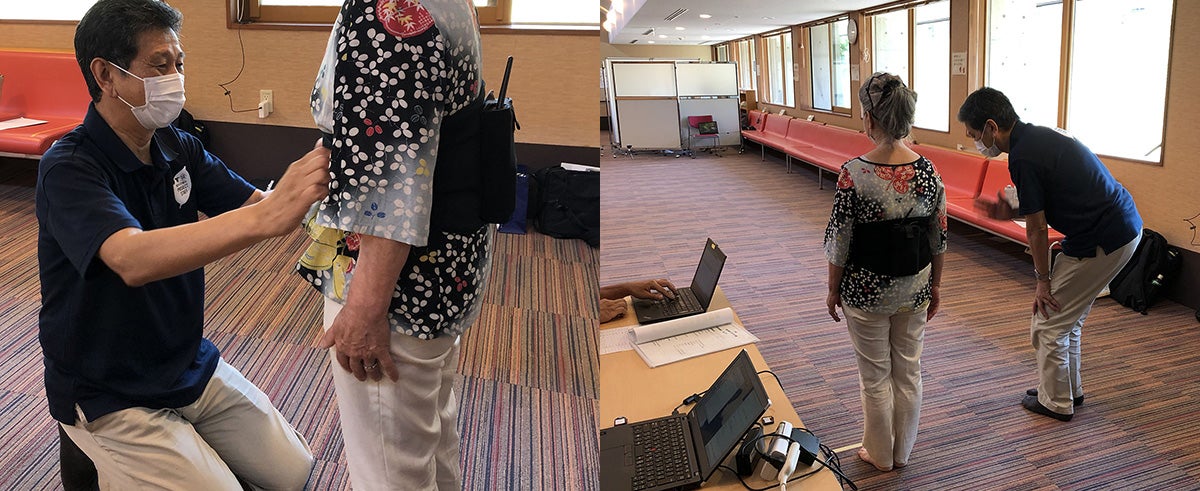 Putting on "KG-walk" and walking
We held this checkup for seven times in Apr.-Jul. 2021, and are planning nine times in Sep.-Nov.2021 as FY2021 plan. New examinees are welcomed until the last checkup in FY2021, and from next year, the existing examinees are expected to continuously participate in this.
Through having certain examinees participate in this project over the long term, the project aims to check the sign of dementia and frailty, leading to early prevention and treatment.
TOYO Corporation creates a new value through expertise on measurement and innovative ideas to support healthy living.