for sports, medical care, and the future of autonomous vehicles
Development of "KG-wear" to measure human movements
(Published on August 29, 2019)
Human movements such as walking and running, which are effortlessly done by people, consist of very complicated body movements. Measuring such human movements involves many technical challenges and difficulties. We would like to introduce a new measurement technology created by TOYO Corporation to measure human movements and its contribution to society.
A new measurement technology was born through our cooperation for a student research
In the late 1980s, an employee of TOYO Corporation received a request from a student at his alma mater for assistance for his research "to analyze the movements of athletes (speed skaters) scientifically." Upon receiving the request, our researcher Takao FUTAGAMI consulted with his superior, who gave permission to use the measurement instruments and facilities of the company, hoping that the measurement technologies would be useful. Thus, our cooperation and support for the research started. FUTAGAMI devised a practical procedure to measure movements by attaching sensors to a human body. The basis of motion measurements by sensors was established at that time. TOYO Corporation has been conducting research on this measurement technology since then.
The above student graduated from the university and has continued to be active in the sports science for speed skating. The student in question is Prof. Masahiro YUKI of Shinshu University, who was a coach for the Japanese speed skaters at Nagano Olympics in 1998. TOYO Corporation still maintains ties with Prof. YUKI and is assisting his research project, in which a speed skater, Ms. Nao KODAIRA (Aizawa Hospital), is currently participating.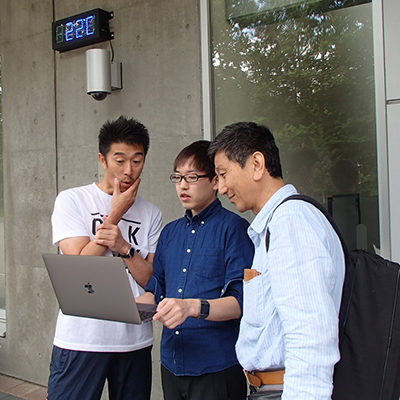 Measurement scene on a skating rink with Prof. Masahiro YUKI(From left to right, Prof. YUKI, Mr. TAKAHASHI of Fujitsu Computer Technologies Limited, and our researcher FUTAGAMI)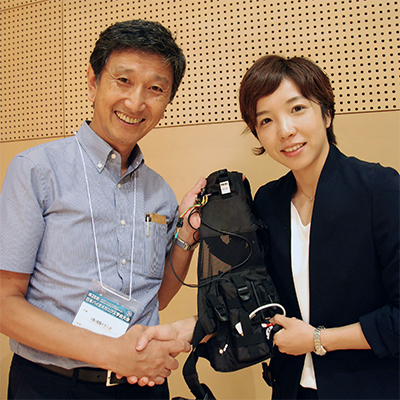 Speed skater Ms. Nao KODAIRA (subject of research) of Aizawa Hospital pictured on the right with our researcher FUTAGAMI at the 25th Meeting of the Japanese Society of Biomechanics in September 2018
Birth of KG-wear
In addition to human motion measurements, TOYO Corporation has been researching technology for information processing using MEMS (Footnote 1) sensors since 2004 through the Information Processing Society of Japan. In 2010, we started an experiment to apply the results to human motion measurements using sensors. This experiment was conducted in collaboration with Dr. Toshinobu KAWAI, associate professor of the University of Tsukuba who used to study with Prof. YUKI as a junior student. In 2013, "KG-wear (Footnote 2)" was born as a result of such research. KG-wear allows a person to wear sensors and to measure his/her movements. Previously, motion measurements used a method to analyze the movements of a person from the images captured by a camera or the motion capture technology that attached markers to the body and detected their movements. Although both of them could measure movements in a relatively narrow space, it was difficult to measure movements in an environment where the subject moved greatly, such as a walking person or an athlete who was exercising. KG-wear is a measurement technology that overcomes these obstacles.
Footnote 1: MEMS is short for Micro Electro Mechanical Systems. MEMS sensors are sensors that use MEMS, which has multiple functions despite its small size.
Footnote 2: KG is short for Kinesio-Gravimetric. The term was coined by combining Kinesiology and Gravimetric. KG means measurements of the center of gravity of movement. KG-wear includes 3-axis accelerometers and 3-axis angular velocity sensors, and records acceleration, angular velocity, position changes, and other behavior. The dedicated analysis system removes the impact of gravity from the recorded data and extracts the genuine movement of the human body.
Measurements of speed skaters by KG-wear
As mentioned above, KG-wear initially aimed to measure the motion of speed skaters for sports science. KG-wear is attached to the body of the subject (athlete), and the acceleration and angular velocity of the sensor coordinates during skating are recorded. Such data and the video data of the skating are integrated to measure the skating motion.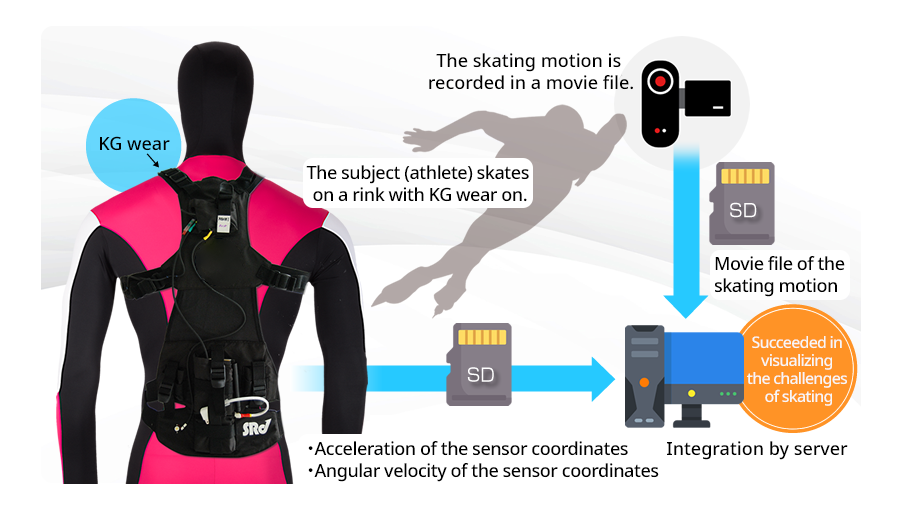 Internal structure of KG-wear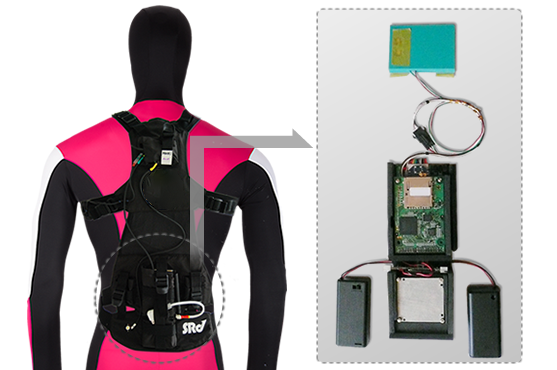 KG-wear consists of IMU (Inertial Measurement Unit) that detects the acceleration of the subject (athlete), communication unit, SD writing unit, trigger detection unit, and control microprocessor. During measurement, the IMU measures the subject's movements on a real-time basis and stores the data in the SD card.
Application to medical care and autonomous vehicle developments
When a person walks on two legs, complicated information processing is performed in the brain and nervous system. Analyzing this bipedal motion may allow early detection of disorders in the cerebral nervous system. It may also be possible to understand the effects of daily physical activity on one's health. We are starting support activities to detect and treat illnesses early and to maintain health by measuring human movements using KG-wear.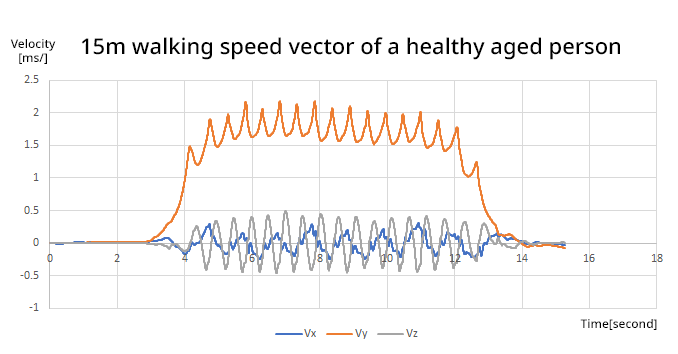 It is possible to measure walking speed vector with KG-wear. Vx is the speed (sway) in the lateral direction of the walker, and similarly Vy and Vz are the speed in the vertical direction and the traveling direction, respectively.
KG-wear can also be used to measure the movement of a driver driving a car. In autonomous vehicles, which have been researched and developed in recent years, steering operations are performed automatically. Therefore, it is very important for vehicle development to measure how the bodies of the driver and passengers move and how they feel the riding comfort. KG-wear and its measurement methods can also contribute to the field of automobiles.
TOYO Corporation's measurement know-how and the innovative idea of one employee started the development of a completely new motion measuring device "KG-wear." TOYO Corporation's corporate culture, in which employees are interested in new technologies and are pursuing the most advanced technology in each field without being hindered by existing concepts, is supporting the development of new technologies that are useful to society.