■
Antenna Measurement Software
 ┣
TY2100AM Data Acquisition Software
 ┣
TY2100AO Output Analysis Software
 ┣
TY2300AO 3D Output Analysis Software
■
Antenna Pattern Measurement
 ┣
Antenna Receiver – Antenna Measurement system
 ┣
Vector Network Analyzer – Antenna Measurement system
 ┣
Spectrum Analyzer – Antenna Measurement system
■
OTA(Over the Air)
 ┣
OTA(Over the Air)Measurement System
Antenna Pattern Measurement
Antenna Receiver – Antenna Measurement System
Agilent N5264A measurement receiver, the PNA-X network analyzer is a receiver of the company - which specializes in the measurement is based on the antenna that was removed from the RF source and a test set.

N5264A, we have the following characteristics. ,
Ultra-fast measurement speed = 400,000 Points / sec (Fast-CW mode).
High saturation point = -9dBm @ 0.1dB Compression
High sensitivity = -143dBm (@ 10Hz IF BW, no averaging)
High Dynamic Range = 134 dB (@ 10Hz IF BW, no averaging)
Simultaneous measurement of multi-input type = 5 (4 parameters)
A long buffers = 500,000,000 data points
GPIB, LAN, USB control can be automatic
The antenna measurements are configured by external Mix has the following advantages.
Also measured the distance from the antenna to the test room as a large anechoic chamber and outdoor measurement range, the IF signal by sending in an external mixer to place the antenna close to the test, the transmission loss RF cable variability and uncertainty can be reduced by the effects of RF measurement data cable.
IF signal from an external mixer, so you can enter directly into the receiver digitizer to bypass the normal conversion stage in RF Network Analyzer, you can improve the sensitivity of about 20dB.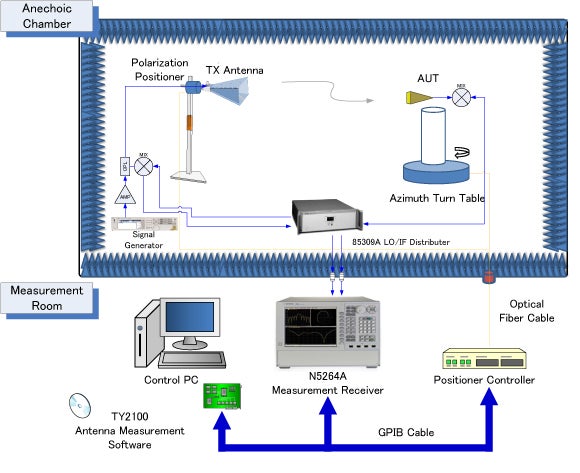 Antenna Receiver – Antenna Measurement System (example)
Vector Network Analyzer – Antenna Measurement System
The antenna measurements in anechoic chambers and compact anechoic box is a vector network analyzer (VNA) can be used.
The Agilent VNA, the option to bypass the built-in S-parameter test set (direct sampler access, configurable test set), so there is, in the case of the antenna used for measuring, wear it all means recommended.
To bypass the S-parameter test set, by typing directly into the mixer and the received signal sampler, earn a degree 10dB sensitivity compared to the test port input.
In addition, placing the microwave amplifiers and couplers near the transmitting antenna, while the drift correction of the amplifier, you can get the maximum transmit power.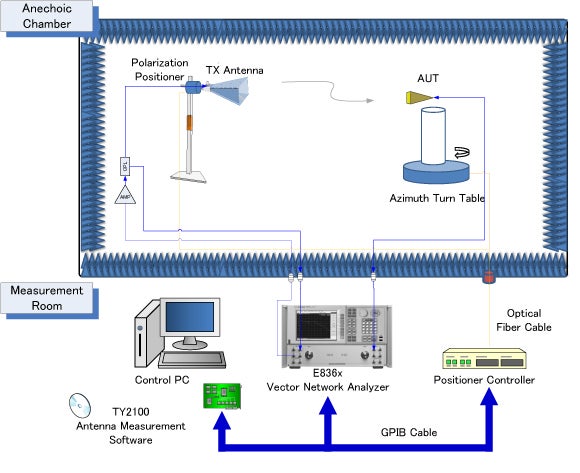 Vector Network Analyzer – Antenna Measurement System (example)
Spectrum Analyzer – Antenna Measurement System
Vector network analyzer, because it is designed to receive signals from the signal source is internal (or, to control yourself) and can not be completely independent of the transmitter and receiver.
The anechoic chamber, and when measuring the antenna pattern as a source of transmission to the mobile phone with built-in VCO, such cases can not establish a link between the signal source control interface transmission tower in the distance in miles or outdoor ranges, spectrum analyzer as a stand-alone receiver (SPA) is used.
Also, if you build a system that combines the measurement system and EMC, in many cases will use the SPA.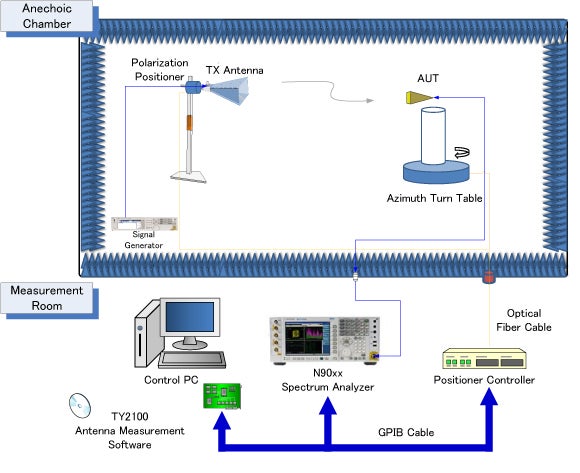 Spectrum Analyzer – Antenna Measurement System (example)