Band reject tunable filter NF49BT

For EMI measurement of the device equipped with Wireless LAN or Bluetooth!!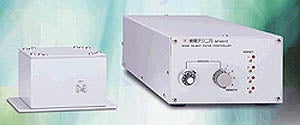 When performing the EMI measurement of EUT equipped with wireless LAN or Bluetooth, the carrier signal causes the saturation of the pre-amp and the reliable EMI measurement can not be performed. NF-49BT is a Band reject tunable filter which does reject those carrier signals with 20MHz band width, and can perform the reliable spurious measurement.
It is easy to perform tuning of the reject frequency, because you can preset up to 4 frequencies optionally.
Furthermore, a wide application is available as you can perform frequency tuning with the manual mode freely in 2 - 6 GHz band.